Interview with JD founder Tom
05/21/2015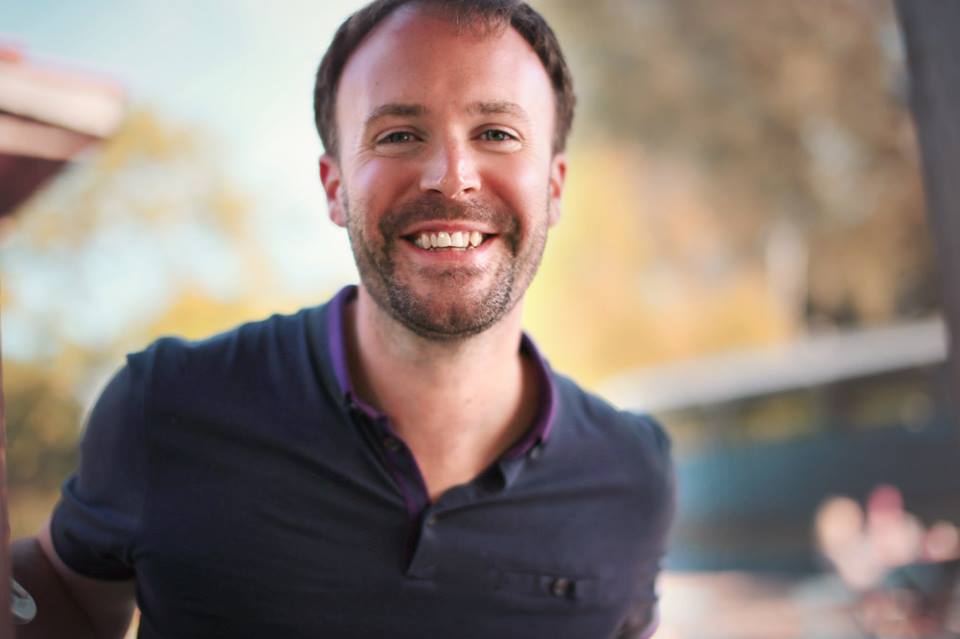 Tom is a person who came to Lithuania from England with his family and started a succesful business here – he opened a third restaurant in Vilnius in a year. Tom calls himself a Chief Mastermind & Assistant hot beverage technician and actually he doesn't look like a typical Lithuanian boss. Instead he is always smiling, very positive and treats everyone with respect. How does he like living in Lithuania, what is the key to success and what is his favourite pizza – you can find all these answers in this interview.
How long are you living in Lithuania? What do you like / don't like?
Now Ive been living in Lithuania for 2 years. It feels like home now. I love the scale / size. Vilnius is the right size city for me. London was too big, too impersonal. I love the opportunities that are here. I was expecting to dislike the weather, but actually I find it really good. I travel regularly and each time I've been away this year the weather has been better in Vilnius! The summers are good and the last 2 winters have been mild so I've enjoyed it. As a Brit I'm used to a bit of rain, so that doesn't even get me down.
We know that you are learning Lithuanian language. Is it hard? What is the easiest and hardest word?
I've started some online studies, but its slow progress. I find 'gerai' and 'be problema' go a long way. Also laiminga/s is a great word. Many words are hard for me – too many to mention, so if I need to speak Lithuanian, I stick to my basic vocabulary. I talk like a small child.
You opened 3rd restaurant in a year. What is your secret of success?
I bring a western business style. Image, presentation, quality, service and integrity are very important to me. I understand that many of  these qualities are often prioritised differently in Lithuania. I  am here long term, so I'm investing here – I want to create a legacy for my family.
People often say that the staff of JD is very friendly and service is excellent as well as staff members say that work atmosphere at JD is very warm. How do you manage to keep your staff happy?
Last year I created a small team of wonderful people. These people created a gravity and more wonderful people joined the team. Today we have over 130 amazing team members. I try and learn everyone's name – it's hard, but I will never stop trying. Each member of my staff is of equal importance to me. I value each and every one of them and I tell them so. Each month we hold training and social events for the staff. This week is the first outing for the JD Running club, we will participate in WeRunVilnius and we have a regular Insanity fitness group. But you're equally likely to find me buying drinks for all the staff in the bar too! Most of our team members are interested in food or hospitality, so we try and give them professional development in this area too. Recent events have involved beer, wine, olive oil and coffee. We regularly train the waiting staff about our service standards and we even have a dedicated training manager now.
JD became famous for pizza. Which is your favourite one?
My tastes change all the time. Im lucky that I can try all the pizzas! I really enjoyed the new vegan pizza and I'm really looking forward to our fabulous new seafood pizza, which will be on the menu in a couple of weeks. But sometimes when you order a favourite pizza, that you didn't eat for a long time and it can just taste great! I probably hadn't eaten our meaty pizza since last summer, but when I ate one recently it tasted amazing!
Can you create a pizza right now?
I'm always creating pizzas in my head. Right now, I would try crispy pancetta, green peppers, sriracha sauce, with the tomato base, sprinkled with breadcrumbs!
What would you never ever put on a pizza?
I think anything goes on a pizza. its just personal choice. But in the restaurant we need to ensure it is popular and palatable for the customers!
Despite pizza, is there any other dish on JD menu that makes you proud?
Our salads are fresh and tasty and Im proud of our salad bar because it gives customers a real choice. We have many new menu items in the pipeline, soon we will introduce authentic Neapolitan fried snacks including the legendary pizza frita.
You named Jurgis ir Drakonas after your son Jurgis. Are there any plans of opening a new restaurant for your daughter Isabella?
This question makes me smile. Recently when I was in Las Vegas, I met a guy who truly makes some of the best pizza in America. His pizzeria is called MiaMarco's after his children Mia and Marco. So I suddenly felt that we had left Isabella out. Beata is the main name generator in our business, so I wouldn't be surprised if one day Isabella has her name immortalised too. Probably, even BonBon will get his own cafe one day!
How does your work day look like?
JD is a big operation now, so there is a big head office where we have marketing, design, finance, accounts, social media, HR. So I usually visit the office to speak to the HQ staff. Then I try and visit all restaurants each day if I can. My work now is making decisions, motivating people and monitoring the high standards that I insist on throughout my business.
What is the most satisfying moment of your work?
When im out in public people often come to me and thank me. They thank me for making tasty pizza, creating nice restaurants, sometimes for just making Lithuania a more interesting place, That gives me great satisfaction.
What message would you like to send to all JD customers?
The JD customers are great. I can build restaurants, but it is really the customers that make JD what it is. Our restaurants have incredible spirit and atmosphere, due to our fantastic customers. Also don't forget to talk to us! We truly listen to all comments and react. When the Vegan community spoke (very loudly!!) we started introducing vegan food. Soon we will introduce a whole wheat pizza dough as a choice. JD is as much about the people as about the food, so please always tell us what you like! 
Asparagus Fiesta @ JD Akropolis!
05/08/2015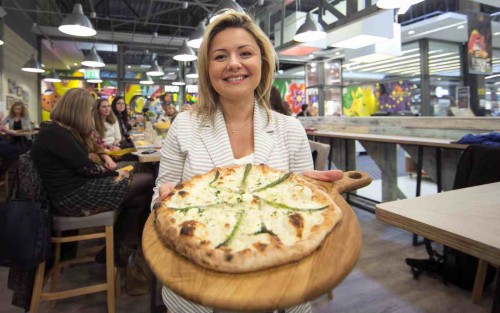 Yesterday we had an unusual event in our newly opened restaurant in Akropolis. We organised it to celebrate asparagus – finally they have sprouted! It turns out that this vegetable is very capricious and grows whenever it wants and makes us happy only for a really short period, but it is definitely worth the wait! Beata loves asparagus and organised this event because we couldn't miss a chance to create a special pizza with it as a topic. So yesterday we invited some fans and unofficial asparagus ambassador in Lithuania, Genutė (who grows them and sells in Tymo market) and of course everyone tried the special pizza and loved it!
Asparagus pizza is a real treat – even 4 cheeses meet there with fresh dill on top – it's spring! This pizza is really special to us, because we will be selling it only for a week (05.08-05.15) and half price of every pizza will be donated to West Lithuania Oncology centre during annual marathon 'Vilties bėgimas'.
May pizza – Speck Ricotta Fiesta!
05/04/2015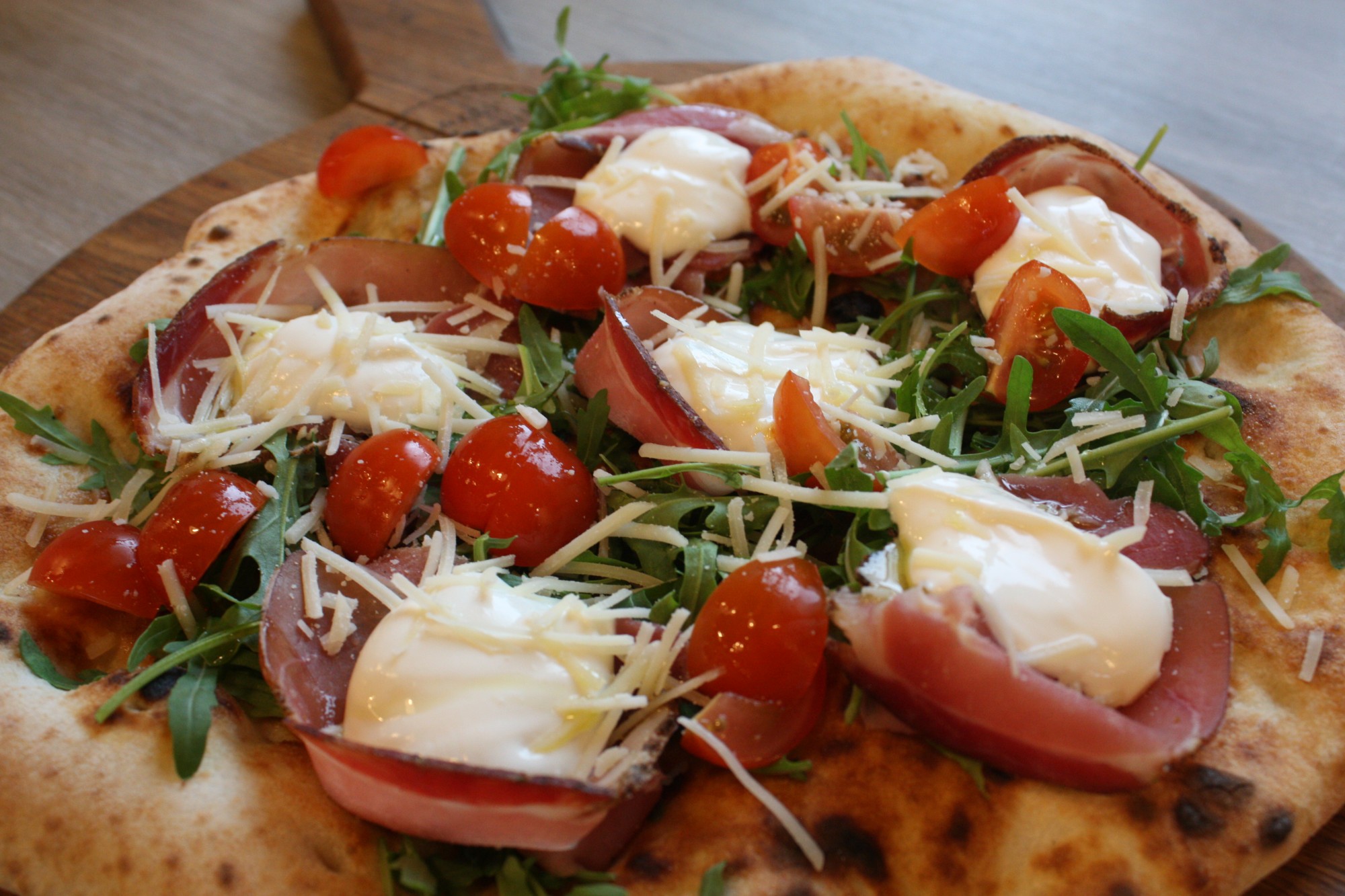 May is such a beautiful month and we associate it with greens, bright colours and freshness, so this months pizza is created according to it. Something really interesting and delicious was invented – half pizza, half salad.
Only pizza sole is baked with extra virgin olive oil. On the top we put the most outstanding flavors and colors: fresh rocket, cherry tomatoes, thinly sliced Italian ham Speck, fresh ricotta cheese and finest parmesan to finish.
This pizza is a great choise for everyone who wants fresher and lighter pizza – it's almost summer, isn't it? And it's only for May – so don't miss it!