Tom: 'Laughing and joking with my kids is probably my biggest pleasure'
02/26/2015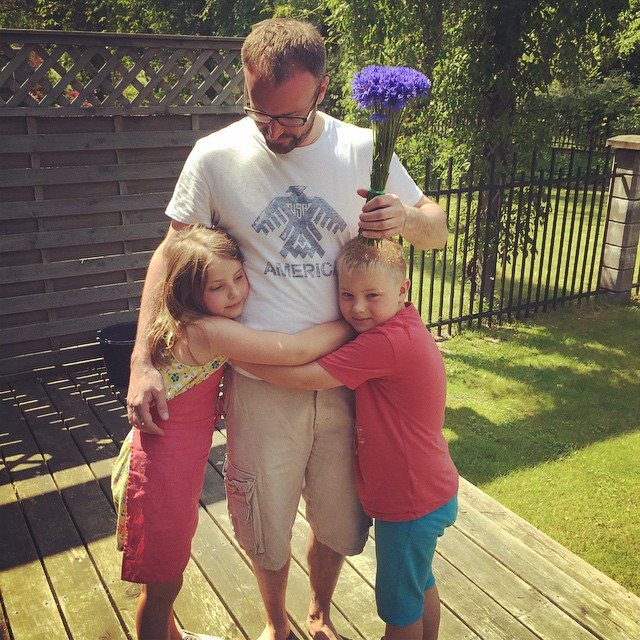 Tom is not only the head of JD but also a family man and father of two kids. This is the reason why JD restaurants is always family friendly and takes care that the little heroes would always have something good to eat and something interesting to do. Even the restaurant is named after his son Jurgis!
Internet portal 'Mamyčių klubas' are organizing a contest worlds best dad, where the prize is dinner for the whole family at JD. Also Tom answered a few questions how is he doing with dad's duties.
How many children do you have?
I have 2 children, Isabella Meile, 8 and George Jurgis, 6.
When was the first time you thought you want to become a father?
I always wanted to have children as long as I can remember. I had a happy childhood and it seemed natural to want to give that experience to the next generation.
What father you wanted to be?  What characteristics you have? Does your dream come true?
I dreamt of being a relaxed and fun father. Reality proves to be something different. They have a very relaxed mother, so I am forced to be stricter than I would naturally be. I tease and joke with my kids all day long. So i still manage to have fun. One day they will be older and will hate the jokes, but now that they are still small, to laugh and joke with them is probably my biggest pleasure.
What was your reaction when you heard that your wife Beata pregnant? What was your first emotions, feelings? How are these feelings changed during pregnancy and after the first and the second baby birth?
The feeling of finding out you will be a dad is like 'walking on air'. It was instantly the beginning of a new journey. We were both 'early' parents amongst our peers, so it was exciting and new.
What Dad you was, when Beata was pregnant? What she was expecting from you? Did you need any support, advice to "survive" the pregnancy period and become a dad?
Beata is an amazing mother, and that started as soon as she was pregnant. She is incredibly independent and she took it all in her stride. She continued to work and travel to Lithuania literally until they wouldn't let her fly.
Did you participate in the birth? If so – what you remember best?
Both children were born in London, St Marys hospital near our home. With Isabella we had to drive to the hospital a few times at night, but she was born next day. Jurgis was quicker. Beata woke me up and said she need to go to a hospital. After three hours he was born!
How do you describe yourself as a dad? Do you have your motto?
I always want to be there with my children. Every day is not even enough! i love to be at home and spend time with family.
How long you manage to spend time with children? What are your responsibilities in the family, household? Do you like it? What would you like to do more for children/ with your children? What kind of activities, classes and you are completely satisfied at home? Which ones you don't like and happy to leave for your wife?
Modern parenting divides most responsibilities. Putting kid to bed, making dinner and organising kids lives are done by both of us. I prefer to leave the kids social arrangement to their mum – she is a woman, so I know she is going to do that so much better than me. I have my own business, so I am my own boss. That way I can make time to pick them up from school, take them to our restaurant for ice cream, or a fun activity. I spend a lot of time with my kids – i would hate it any other way.
What do you think, how you are different from other Dads. Maybe you have something in common with your father, grandfather, grand grandfather?
Im a regular dad. But I'm dependable, Im firm but fair. And fun too! I want to leave a legacy for my children, the men in my family have always done that.
Three main things that would you like to pass on to your children?
I would like to pass on a sense of decency, the skills to run a business and the opportunity to be who they really are.